Tuesday, March 8th, 2011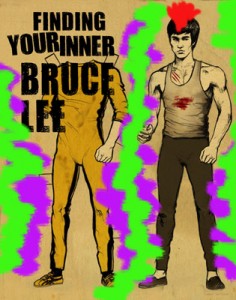 There are many lessons you learn during your life. Some stick with you longer than others. Take this classic grade-school smackdown that I received in art class. I clearly remember bringing home multiple pictures that had a bright-red "Poor!" written across the top simply because my inner Picasso would not let me stay satisfied coloring within the lines. To this day I'm proud to tell of my defiance with those Crayola crayons and credit my early need to rebel with where I am today.
There are infinite schools of thought when it comes to the interweb and online marketing. On one hand there are those who tell you that to achieve success you must follow the rules laid down by past experience: a website should only be so wide; a blog should stay consistent in its subject matter; an e-mail subject line should not include certain words; when choosing colors, it is important to be consistent; choose colors that don't clash. On the other hand there are those who say don't follow the rules, create your own path, and forge ahead as a unique entity.
I choose to follow my own school of thought when it comes to online marketing, and I'd like to dub it the Bruce Lee school of thought. You see, Bruce Lee was famous for rejecting the well-defined martial art styles, opting instead to utilize techniques from various sources as well as his own inspiration. This adaptation of many styles made him an unstoppable opponent to all he went up against.
The Internet is always evolving, and online marketing is only as good as the people creating it. It's important to bring your own style to the table when creating content and building campaigns. Embrace the best practices, but don't take them as law or even the best way to make an impact. The reason I love my job so much is that I can create by adopting practices and lessons from anywhere. Whether it is the way that Banksy's art moves me or the way the sunset looks as I paddle out into the Atlantic Ocean, I pull inspiration from everywhere. Online marketing should be inspired, full of people who color outside the lines and take risks that the majority won't. Each post in this blog will be showcasing a campaign, a video or piece of unique online content that I am digging on and that I feel breaks the mold of online marketing or unique content that is driving visitors. Feel free to e-mail me with your own inspirations.
The K2 Hunt Contest: This sucker is great because it utilizes a co-sponsorship between a popular lifestyle website, www.newschoolers.com, and a popular brand, K2 skis. It not only gets the participant to enter by "answering" with a photo of themselves with the product, but the clues are open to interpretation – the more creative the entry, the better. Not only are the participants having fun creating with the brand, but they are coming back week after week to vote on others' creations. If they don't win one week then they can enter again the next. This is not a revolutionary concept, but this way of answering each round is highly addictive and makes the brand that much more sticky.
Tags: Bruce Lee, Online marketing, Virally Yours, Virtually Yours | Posted in Uncategorized | 359 Comments »